Whether you are operating heavy equipment on a construction site or repairing a pothole on the highway, you are bound to be exposed to potentially harmful working conditions. Wearing high-visibility (hi-vis) apparel on the job is essential to remain visible to those around you. In this article, we break down what hi-vis is, why it is necessary, who should wear it, and lastly, touch on different types of hi-vis apparel – helping you decide what is best for you!
Hi-Vis Breakdown
Hi-vis is a type of Personal Protective Equipment (PPE) that has highly reflective properties which help reduce the risk of worker injury or fatality by allowing motorists and equipment operators to see workers in low-light or dark environments. Our eyes respond best to large, contrasting, or bright objects. Therefore, the high color contrast between hi-vis clothing and the background it is against enhances worker visibility.
Working on roadways or around heavy machinery can be especially dangerous. According to the CDC, fatal work-related injuries at roadway construction sites average 123 worker deaths per year. In 2019 alone, there were 762 fatal crashes with 842 fatalities (WorkZoneSafety.Org). These figures only speak to deaths; they do not even begin to encapsulate workers and citizens who were simply injured in work zone or machinery-related accidents.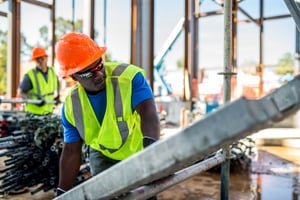 Those who work in an industry where they are in close contact with moving vehicles or machinery should be equipped with hi-vis apparel. Some inclusions are first responders, road construction workers, surveyors, and utility workers. However, workers are not the only ones who benefit from higher visibility. This clothing can go from workplace to weekend as non-workers, such as runners, bikers, and dog walkers could also benefit depending on their lighting conditions.
Common Hi-Vis Apparel
One of the most traditional forms of hi-vis clothing is fluorescent orange or lime vests with reflective stripes in an 'H' pattern on both the front and back. The fluorescent color makes the wearer visible during the day, while the reflective stripes make it more likely that they will be seen at night, increasing their safety. There are many options for this type of apparel, including t-shirts, vests, jackets, and pants.
Hi-Vis Color Options
Both fluorescent lime and orange are known to affect conspicuity in daylight conditions positively and using both colors together is an option when surrounded by a complex background.
When it comes to choosing hi-vis workwear, orange and lime are top choices. While both offer enhanced visibility, they have different purposes. Lime is considered brighter which makes it ideal for urban environments where it stands out against neutral-colored buildings. Orange is commonly used for roadwork as it mimics traffic cones and shows contrast in heavily foliage areas.

Reflective Striping
Hi-vis workwear is more than just the color of the garment. It must include reflective striping. Reflective striping or tape is applied to hi-vis to increase its visibility by reflecting light. The more tape there is, the more the clothing will stand out. It is what makes the H and X patterns on upper body workwear. Tape can be continuous or broken; the latter offers improved comfort.
Reflective tape can also be contrasting. Reflective tape is silver, but contrasting tape includes hi-vis striping below the reflective layer. Often contrasting tape on lime garments is orange and tape on orange garments is lime. Clothing with contrasting tape meets the highest safety standards as reflective tape.
How Hi-Vis is Measured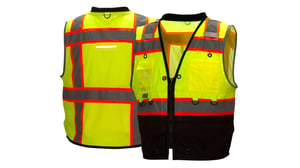 Every orange or lime piece of clothing cannot be considered hi-vis. To be classified as quality hi-vis, clothing must meet specific standards set by organizations that are influenced by industry experts, consumer groups, and government bodies. In the US, we use ANSI and in Canada, they use CSA.
ANSI-rated hi-vis meets either a Roadway (R), Off-Road (O), or Public Safety (P) performance class. Type R hi-vis provides daytime and nighttime visual enhancements. It is ideal for workers working near roadways. Type O provides moderate visibility and is ideal for off-road workers. Type P is often worn by public safety workers like police and EMS.
ANSI also distinguishes hi-vis apparel by class. Each class indicates workwear that is ideal for specific situations.
Class 1: Good visibility for low-risk workers, traffic is under 25 mph or the jobsite is a safe distance from the roadway.
Class 2: Additional high visibility materials, provides detection and identification of workers from longer distances.
Class 3: Greater visibility of workers through a full range of body movements in complex and non-complex backgrounds.
Class E: Garments do not meet ANSI safety requirements when worn alone but when worn with a class 2 or 3 garment, the overall ensemble meets class 3 standards.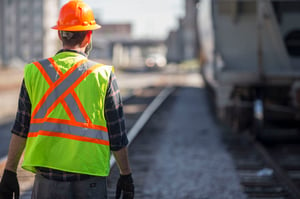 Like ANSI, CSA has different categories of hi-vis. Retroreflectivity is noted by level. Level FR denotes special low reflective performance appropriate only for apparel designed to protect against brief exposure to flames and electrical flash. Level 1 offers a higher level of retroreflective performance and must be visible in the dark from a moderate distance. Level 2 is the highest retroreflective performance level material/tape that is visible under dark conditions from a great distance. The tape also reflects light making workers visible in the headlights of oncoming traffic.
CSA also has three performance classes that come before the level denotation. All require X back striping. The classes are:
Class 1: Offers good visibility with lowest recognition coverage, ideal for workers in parking lots, warehouses, sidewalks, and more.
Class 2: Provides moderate body coverage and superior visibility. The upper torso must be fully covered with reflective striping.
Class 3: Meets class 2 standards but has the addition of reflective bands encircling worker arms and legs.
Specialty Hi-Vis Apparel
Over time, there has been an increase in hi-vis clothing options as different industries and applications have different needs for visibility. Designs also change and adapt standards update to better protect workers.
Black Series
If you are looking for workwear with a bit more style or something that hides grease and dirt better, try black enhanced visibility workwear.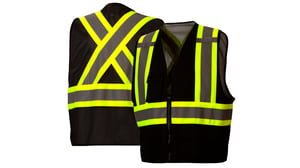 One of the significant benefits of black workwear is its clean appearance. Depending on your work environment and profession, you might be in regular contact with dirt, grease, or other things that could quickly soil your clothes. With lighter colors, dirt is easily noticeable; black, on the other hand, does an excellent job of hiding unwanted marks. This provides a cleaner, fresher look throughout the workday.
Appearance is not everything though. There are other benefits of black enhanced visibility workwear that the usual fluorescent lime and orange colors cannot compete with. If you work in an environment with an abundance of bright colors, you will be more visible with darker colors such as black.
'X' Back Pattern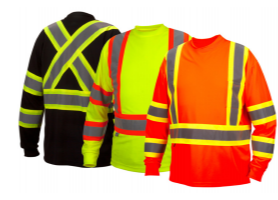 'X' back apparel is commonly used in places such as Europe and Canada, as it is a mandatory part of the EU and CSA standards. Although not a requirement in ANSI 107 – 2020, it is still an excellent way to ensure optimal safety in worksites where the direction the worker is facing is important due to moving vehicles. Choosing apparel with a reflective 'X' marking on the back, and the standard 'H' on the front, warns oncoming vehicles which direction the worker is facing, and if they need to alert the worker. This type of apparel is mostly popular among railroad and highway workers.
Parkas and Jackets
Reflective jackets and parkas provide the ultimate winter warmth without sacrificing your safety. Winter workwear options – several of which are waterproof – include fleece-lined, quilted lined, and windbreakers.
ANSI 201-2019 American National Standard for Insulation and Wash Durability Classification of Apparel used in cold work environments now provides a means for a garment to be classified, based on the material's ability to keep workers warm in low temperatures, and to retain such protection throughout its expected life.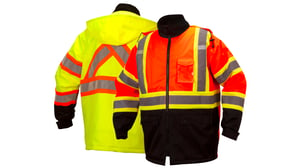 Although ANSI 201 provides a way to measure the warmth of a garment, this standard is exclusively for thermally insulated apparel as opposed to standard safety parkas and jackets. Therefore, it is suggested first to determine the type of activities you will be undertaking, and then make an informed decision on which clothing is right for your work environment. Desired warmth could subsequently be achieved through singular items or layering.
Hi-Vis Lifecycle
Hi-vis workwear is made up of versatile options to fit all seasons and weather. Like all personal protective equipment, hi-vis has a life expectancy. There is no specific time when workwear should be replaced, but the industry standard is after 25 washes. Being washed and dried can fade the brightness as it does for all clothing.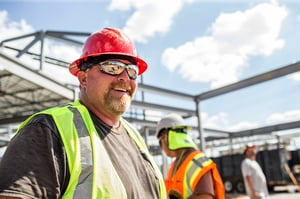 Other signs that hi-vis should be replaced are:
rips/tears
cracks
permanent stains
no longer comfortable for extended wear
damaged reflective striping
High visibility clothing is essential in many industries, and for good reason. Choosing the right PPE for your work environment can not only reduce injuries but also save lives. Accidents happen on worksites every day and being correctly protected is a step in the right direction. Nowadays, hi-vis garments come in a variety of designs, catering for several job environments and conditions ensuring all workers are safe in their surroundings. PPE manufacturers and their sales teams or your company's own Safety Coordinator can help you choose the right hi-vis for your specific needs and environment.